SOD: System Benchmarking Hardware
I've been working on and off on the next Seeds of Discontent article. This is a tidbit of an upcoming post but I wanted to push it out now since I need it published for a divergent sidebar article. It stands here bald and raw. That's life.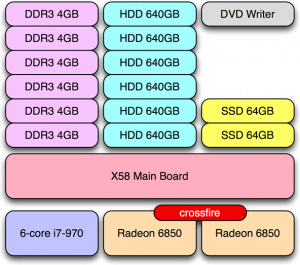 This system uses most of the Rampage III resources. The two Radeon cards will completely consume the PCI Express lanes (2 x16). The 24GB DDR3 will fill the six DRAM slots.
There are 7 SATA II and 2 SATA III ports.
The two SATA III ports connect the two SSD drives as a RAID Level 0. All non-user data is served from this drive (e.g., the operating system and benchmark applications).
One SATA II port connects the DVD writer.
Six SATA II ports connect the six HDD as a RAID Level 0. The HDD were selected for their cache (64MB), interface (SATA III, though connected to SATA II), spindle speed (7200 rpm, not as fast as 10,000 or 15,000 rpm but much, much cheaper) and price (cheap).
The two video cards were selected for being current and for being cheap (sort of).
Not shown in the picture are four 1920 x 1080 LCD monitors. These monitors pivot making them nice for a development (4320 x 1920).

Item 1                                         $  60
Antec Three Hundred Computer Case
Black Steel ATX Mid Tower

Item 2                                           180
CORSAIR AX850 850W Power Supply

Item 3                                           230
ASUS Rampage III LGA 1366 Intel X58
Micro ATX Intel Motherboard
N82E16813131658

Item 4                                           880
Intel Core i7-970 Gulftown 3.2GHz LGA 1366
130W Six-Core Desktop Processor
L2 Cache: 6 X 256KB
L3 Cache: 12MB
BX80613I7970

Item 5                                           225
Item 6                                           225
Patriot Gamer Series (3 x 4GB)
SDRAM DDR3 1333 (PC3 10666)
PGS312G1333ELK

Item 7                                            70
Item 8                                            70
Item 9                                            70
Item 10                                           70
Item 11                                           70
Item 12                                           70
Western Digital 3.5" Caviar
640GB 7200 RPM SATA 6.0Gb/s
Cache: 64MB
WD6402AAEX

Item 13                                          134
Item 14                                          134
Crucial RealSSD C300 2.5" SSD
64GB MLC SATA 6.0Gb/s
CTFDDAC064MAG-1G1

Item 15                                           10
SilverStone Bay Converter
mounting bracket 3.5" to 2 x 2.5"
SDP08

Item 16                                          185
Item 17                                          185
ASUS Radeon HD 6850
EAH6850 DirectCU/2DIS/1GD5
1GB 256-bit GDDR5 PCI Express 2.1 x16
EAH6850

Item 18                                           11
HIS CrossFire Bridge Interconnect Cable
HCFBC4065

Item 19                                          250
Item 20                                          250
Item 21                                          250
Item 22                                          250
Acer 1920 x 1080 LCD Monitor
B243H

Item 23                                           25
LITE-ON 24X DVD Writer Black
iHAS424-98