Office Tour
At work, we ditched our cubicles and went straight up desks. It is amazing what breaking down the cell walls will do.
Anyway, here's ten points of interest in this "Kelly's Office Tour."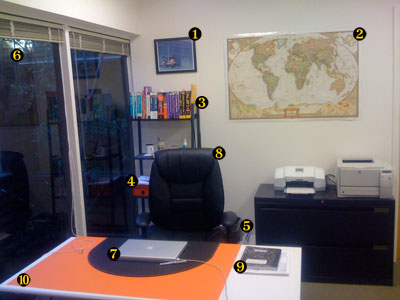 1. Mazzy Star Promo
Mazzy Star was an American 1990s dream pop/alternative band. They formed in 1989, from the band Opal, a collaboration of guitarist David Roback and bassist Kendra Smith. Smith's friend Hope Sandoval became vocalist when Smith left the band.
See also, last.fm
2. The Masterplan
3. Geek Books
– Apache: The Definitive Guide
– Web Site Measurement Hacks
– Essential ActionScript 3.0
– Extreme Programming Explained
– Agile Estimating and Planning
– MySQL Database Design and Tuning
– MySQL 5.0 Certification Study Guide
– The Ruby Way
– Linux Server Administration
– Java Generics and Collections
– Jakarta Commons Cookbook
– Learning Java
– Beginning JSP2
– Pro Apache Struts with Ajax
– Pro JSP2
4. Photo box
The photo box is used as a pencil/supplies box. The desk has no drawers and I simply liked the box' color.
5. Igloo lunch pail
6. View of the sky
I get about 40 minutes of direct sunlight in the late morning. The rest of the day, it's filtered light through the trees. Nice.
7. MacBook Pro
Macs rule!
8. Overstuffed chair
Where I sit all day and grow fat.
9. Super secret notebook
Someplace to jot down action items during meetings. It seems old school to use "paper" but it works. Besides, people who bring their laptops to a meeting and proceed to read email and engage in side IM chats… well, they suck. It's rude and it saps the meeting's focus and energy. Bring a pad of paper and jot down your action items.
10. Desk pad
We all went down to the art store and bought colored matboards. I was in an orange mood that day. (One does need a hint of color…).